Lowriders -
EGR Deletes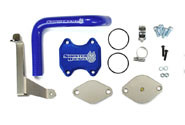 During normal highway driving, the EGR system that was installed by the factory can recirculate up to 50% of your diesel's exhaust back through the intake to reduce emissions. But on the drag strip, feeding your diesel engine anything other than the cleanest air will rob you of precious seconds and your competitive edge.
This category is empty.
---
More About
EGR Deletes
The gains from installing an EGR Delete extend beyond reliability and keeping your intake soot-free. With the EGR system removed, you'll no longer be cycling hot exhaust into your intake, lowering overall intake temperatures and making more power and more torque on the track.