Lowriders -
Wireless Air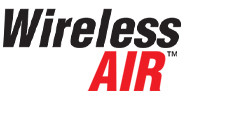 ---
---
More About
Wireless Air
Rule the Air.
WirelessAir™ is an advanced wireless controller that lets you rule your air spring system, no strings attached.

Dual-path control means that drivers can set the left and right air springs to difference pressures - perfect for users with uneven or top-heavy loads
Wireless handheld unit for convenient operation anywhere near the vehicle
Easiest installation ever - no lines to the cab!
Heavy-duty air compressor
Optional Android App or iOS App for your phone
Premium Wireless Control Of Your Air Springs.
WirelessAir™ provides one-touch inflation and deflation of your air springs from inside or outside the vehicle. Control the air like a boss.

To Each Their Own.
Inflate and deflate each air spring independently to different pressures - perfect for users with uneven or top-heavy loads. With two user-defined memory buttons, WirelessAir can remember your frequently used settings.

EZ Mount Makes Installation Even Easier
Purchasing the WirelessAir system with EZ Mount gives you everything you need for the fastest, easiest installation possible. EZ Mount packages the manifold and upgraded, heavy-duty compressor into one convenient, pre-assembled and factory-tested bracket, giving you everything you need to have full control of your air springs in no time at all.