Lowriders -
Long Range Fuel Tanks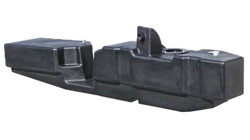 ---
---
More About
Long Range Fuel Tanks
Titan Fuel Tanks is America's leading manufacturer of high-capacity aftermarket fuel tanks made of military-grade polymer. Our products are market leaders not because they are the least expensive options — we'll be perfectly straightforward, they're not — but because the advantages we provide over competing metal tanks make our products overwhelmingly worth the difference in price.

TITAN Fuel Tanks stand out in the market by enabling you to drive your pickup more than twice as long between fill ups. Anyone who travels or pulls a payload knows that factory-equipped fuel tanks in diesel pickups limit range. Our tanks allow you to extend the range in your pickup by up to 500 miles or more (depending on the make and model of your vehicle). Put an end to the headaches on long road trips; save time, improve range, cut fuel costs and fill up when you want with Titan Fuel Tanks!

Why Titan Tanks?

Our tanks don't delaminate.
They don't get corroded by biodiesel.
They don't have condensation problems.
They don't have welds that crack apart if you get in a rough use.
They're lighter and quieter than metal tanks.
Many of our models are made to fit into spaces that a metal tank simply won't.