Lowriders -
Compressor Systems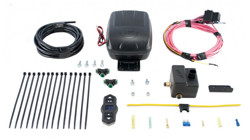 ---
---
More About
Compressor Systems
You probably know that air spring suspension is the most versatile suspension system out there…
and a compressor system is what makes the springs adjustable and ready for any load. An on-board
air compressor is a system that allows you to adjust the air pressure in your air springs from
the touch of a button. Because of this, you can easily adjust the load support and leveling
capacity of your vehicle…so this comes in handy, especially when you're towing or hauling some
heavy loads.